Representative image
By: Bhavani Srinivasan
MUMBAI: As the focus on me- ntal health increases and psychology becomes more relevant each day, it has also become popular as a career choice for students who want to purs- ue this branch of humanities.
"There's a need for competent practitioners who can help people cope with their problems in our increasingly complex society," said Ruby Pavri, head of psychology department at St Xavier's College. "Trained professionals can help people overcome depression, conflicts in relationships and in general, better manage their stress. The goal is not just to overcome problems but to thrive. Being equipped with knowledge of psychology helps to understand, predict and manage human behaviour."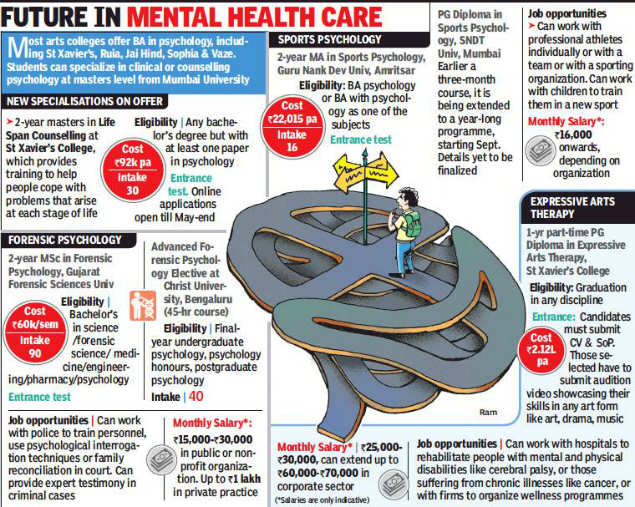 While clinical and counselling psychology continue to attract students, there are several emerging branches which involve applying psychology to different settings or populations and are gaining ground. "Everyone thinks that once you study psychology, you have to become a counsellor. However, I didnt want to choose this path. I'm interested in working with criminals and victims and hence, chose forensic psychology," said Krupa Nishar (22), who is pursuing MSc in Forensic Psychology from Gujarat Forensic Sciences University. "In India, people are not aware that this field exists and hence, the scope is quite limited. My enthusiasm was often met with scepticism. But I'm happy with my choice…While the scope for forensic psychology may be limited, it is constantly growing-it just takes time."
Forensic psychology
It involves applying psychology to criminal justice. It's a mix of psychology, law, criminology among others. "As a counsellor, one needs to be empathetic and understanding, but as a forensic psychologist, one has to distinguish between normal and abnormal behaviour and be able to critically analyze a situation," said Janvi Doshi, a forensic psychologist.
Application in sports
Sports psychology involves study of how psychological factors affect performance in sports. "Sports psychologists aim at improving physical wellbeing and performance by focusing on psychological factors. Most of my time is spent on the training ground with athletes," said Maurelle D'Sa, sports psychologist & co-founder of GRIT Sport & Exercise Psychology Consultancy.
Expressive arts therapy
It uses movement as a treatment modality for physical and psychological rehabilitation. Expressive arts therapists work with Parkinson's disease, dementia, autism and cerebral palsy patients. "We also help people suffering from chronic diseases, like cancer, with their body image issues," said Devika Mehta, co-founder of Synchrony, which provides dance movement psychotherapy.
LATEST COMMENT
We should not be fooled by lame lanes.
SEE ALL COMMENTSADD COMMENT
Industrial psychology
Also known as industrial-organizational psychology, it involves application of psychology to the workplace, particularly in HR, for recruitment, selection, training, management of personnel. An industrial psychologist seeks to improve working environment by focusing on the enterprise, the human factor & relationship between employer and employee.
["source=timesofindia.indiatimes."]